EMPOWERED TO EXCEL!
Most of us never reach our potential. We go through life without ever really pushing ourselves to the limits of what's possible. As a result, many times we miss out on all of the abundant rewards that life has to offer. In this high-energy program, Mark will share powerful principles that when applied, will empower you to attain unexpected levels of excellence in every area of your life. Get ready to be inspired and energized as you are about to elevate your performance to the next level.
INSTRUMENTS OF INFLUENCE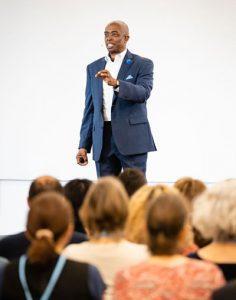 We often consider celebrities, financiers and politicians to have the greatest influence, but WE have more influence than we realize. In this inspirational, uplifting program, Mark debunks conventional thinking about our lack of influence. Using specific examples and 3 powerful principles, he prompts us to adjust our mindset, stop labeling, limiting and lying to ourselves about our lack of influence, and acknowledge that we are ALL instruments of influence. Key points:
• How to identify the power of your influence
• How to use your influence for maximum effectiveness
• How your local influence can have global impact
PURSUE YOUR PASSION!
'You are what you do'…or so we have been told. But to fulfill your purpose you must 'do what you are.' With that end in mind, Mark will share five powerful principles for pursuing your passion. You will embark on a voyage of self-discovery and find out who YOU really are. You will learn:
• The potency of a pinpoint FOCUS
• The power of planning and priorities
• Key relationships you must build to transform your life
• How your passion can uplift others
• Lessons he learned in fulfilling his dream